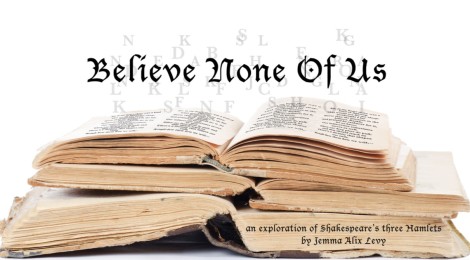 Believe None of Us
Alex is in the midst of a two-week script development residency in Lexington and Staunton, Virginia, working on an exploration of the three 'original' source texts of Hamlet.  Jemma Alix Levy is adapting and directing the piece.  Alex performs alongside Ben Crystal and Sean Hagerty, with each portraying one of the three source texts simultaneously onstage.  Matt Davies and Sara Hymes also perform.
The company, sponsored by Washington and Lee University and The Virginia Shakespeare Initiative, will present a sharing as part of the American Shakespeare Center's Blackfriars Conference.  There will also be a public sharing of the work at Washington and Lee University on 1 November.
Believe None Of Us
Adapted by Jemma Alix Levy
30 October: Open to Blackfriars Conference participants only
1 November, 3pm
Johnson Theatre, Lenfest Center
Washington and Lee University
Free, Unticketed

For more information click here.